Google Memory Care Omaha, and you'll find dozens of results. The decision to seek specialized residential care for a loved one is challenging. Parsons House is the area's foremost provider of residence-based memory care that we call, The Cottages.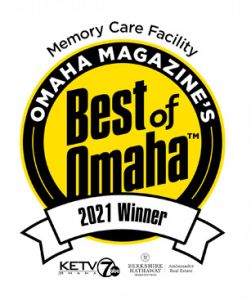 Our award-winning Best of Omaha caregivers are often able to offer the type of service that simply couldn't be provided at home. With unrivaled expertise in the Omaha area and a caring heart, we go above and beyond to provide your loved ones with the comprehensive care they deserve in a safe, nurturing environment.
No one experiences dementia alone. At Parsons House in Omaha, we're here to help you navigate this difficult journey with understanding and respect. Our compassionate caregivers will provide your loved ones with the care they need and the vibrant life they deserve in an engaging, protective environment that our Cottages at Parsons House provides.
We focus on finding joy in everyday pleasures in all that we do. Our residents in The Cottages enjoy daily activities and outings into the local community to add interest and fun to their days. We celebrate together, tell stories, play, and live. We believe you'll think of this next chapter as a meaningful continuation of your loved one's story.
Earning the Best of Omaha designation for Memory Care Omaha goes far beyond our always improving state-of-the-art facilities and best-in-class clinical care, we believe that heart plays a huge role in helping our residents lead meaningful lives at Parsons House. Our caregivers engage with residents of our cottages on a daily basis in a genuine, caring way. We want to learn about family history, careers, hobbies, and childhood stories to foster close relationships in our community. We welcome you, along with family and friends, to visit and participate in activities with loved ones. We strictly adhere to the guidelines of local & state health officials. During the pandemic, some activities and personal contact may be restricted. Please know that we want you here as much as possible. At Parsons House, your family becomes our family, and ours becomes yours.
Our Cottages and memory care programs in Omaha are designed to ensure that residents thrive in mind, body, and spirit. We encourage you to learn more about our floor plans and activities by visiting our website. Please contact us directly if you have additional questions about memory care in Omaha!