Parsons House Assisted Living adds a dog park to their assisted living facility!  More and more residential complexes are adding dog parks to their residential communities and now Omaha's award-winning assisted living facility has one, too!
Parsons House Senior Living in Omaha, Nebraska offers Assisted Living and Memory Care to its residents.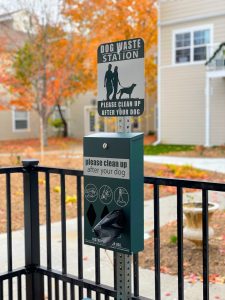 They feature several appealing amenities: beautiful apartments, individual climate control features, bistro café, pub, fitness area, salon services plus an array of social and recreational programs. And now a dog park!
What makes Parsons House even more unique is that the community is dog-friendly and just finished a dog park for its residents.
"We decided to add a dog park as many seniors have small dogs that they do not want to leave when they make a decision to move into an assisted living facility,"
What a fantastic amenity to Parsons House assisted living and memory care! Senior citizens certainly love their canine companions. And research supports the importance of dogs in the health and wellness of senior citizens. Studies show that dog-owning seniors have lower blood pressure and lower cholesterol than their petless peers. Having a dog also reduces the risk of heart attack — and boosts your chances of long-term survival if you have one.
Parsons House certainly goes the extra mile when it comes to providing amenities for its residents. As construction nears completion, residents are excited about all the changes…especially the dog-friendly park! As far as the new addition to Parsons House, it's certainly a nice addition!
A Canine Friendly Park at Parsons House
Fenced in area
Conveniently located near entrances & exits
Artificial turf
Doggie Trash Receptacle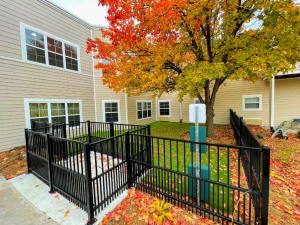 Let's face it. Dogs were built to run and jump outside. It's in their DNA. Unfortunately, dogs are often confined indoors until they can get out either early in the morning or late in the evening for a walk. With a dog park, they can run, jump and play outside. According to the American Pet Products Association, there are 89.7 million dogs in the US in about 60 million households. It's nice to see a senior living community like Parsons House take that next step and install a dog park for its residents and their dogs!