Are you on the search for the right senior living arrangement for a family member?
Choosing to transition a loved one to a living facility is never an easy decision. That's why it's important to know that your chosen facility has all the best features. This way, it's easy to know that your family member is getting all the care and luxuries they deserve.
If you're uncertain what makes one facility better than another, keep reading. We'll go through each feature to make it simple for you and your family to find the right match.
Specialized Care
The first thing to check when picking a suitable place for aging parents is the type of care the facility provides. Do they offer specific care for your parent's medical needs? Will they know how to react during an emergency?
For example, the risks of Alzheimer's require a professional hand to give the person the right kind of care. It would be a bad match for everyone involved if the facility doesn't have personnel with the necessary experience.
If your loved one suffers from Alzheimer's or any other type of medical issue, make sure that the facility knows how to deal with it.
Many Activities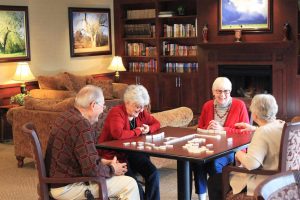 Fun activities in which to fill the day are an important part of lowering stress and increasing happiness. Make sure to investigate how many activities the facility offers, and how often a resident gets to participate in them.
There should be a variety of things to do, including activities like playing lots of different games, puzzle-solving, and movie watching.
Events are also a good thing to check. Does the facility do anything special for the big holidays throughout the year? Will your parent get recognition during their next birthday?
These types of things make a facility feel even more like home. Julie Grady, the activities director at Parsons House, develops an activities schedule each month for our senior living community. Residents and their family members can access this activities calendar on the Parsons House website. Click here to learn more information..
Sense of Community
One of the biggest benefits of a facility dedicated to senior living is the fact that your loved one is never alone. There are many opportunities for them to interact with all kinds of other people, including their carers and their neighbors.
A thriving senior living community is the best kind of place for your parent. This ensures that they'll never feel alone and they'll always have someone to talk to they need a friend.
If you visit the facility before you've chosen one, make sure to bring your loved one with you. This way, they'll get a better sense of whether or not they'll feel comfortable within the community.
Friendly Staff
It's always recommended that you take some time to visit your chosen facility before beginning the transition phase. Talk to the staff and get to know them a little better. Ask them all of your questions so that you understand the process even more.
These are the people you're relying on to take care of someone important, so you need to feel confident in their abilities.
Friendliness is also a key factor. No one wants to leave a cherished parent with a facility that doesn't have any interest in pleasantries. This makes the residents feel less at ease and can increase stress.
Variety of Amenities
What kind of amenities does the facility offer? Is there a shallow swimming pool for low-impact exercise? Are there places to sit outside so that the residents get plenty of sunlight and fresh air?
Each facility has a unique experience to offer its residents by way of its amenities. It's a good idea to pick a place that has many of the types of things that your loved one values.
If they love to read while sitting outside, it wouldn't make sense to pick a facility that doesn't have many benches or patios outside.
Make sure to talk to your parent and ask them what kind of amenities would make the transition easier and more enjoyable for them.
Nutritious Meals
The type of food your parent eats while in their new home is vital to their health. Not only does the food need to be nutritious but it also needs to be delicious so that they'll be inclined to eat it.
Many senior citizens struggle with appetite, so picking a facility with a great chef is a huge asset for many families. It makes it easier to know that your loved one is keeping a full and healthy diet.
Don't forget to talk to the staff and ask about the regular meals offered to residents. Make sure to ask about how a resident's specific dietary needs are met so you know how to ensure your parent gets the foods they need.
Cosmos Awortwi, is the director of food services at Parsons House. Cosmos takes great pride in making sure the needs of each resident are taken care of.
Vibrant Decor
Assisted living facilities don't need to be drab and boring. In fact, they should be the opposite. Take a walk through the facility and see the decorations for yourself.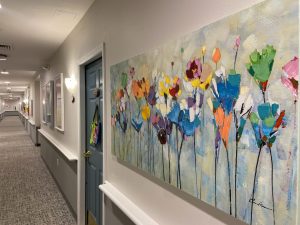 If you get the sense that the decorations are lacking, it might be a good idea to pick a different place. You want your loved one to feel excited about staying in the facility. A facility with boring aesthetics won't make anyone excited.
Parsons House is undergoing an extensive remodel which includes the addition of a Bistro, Tavern, Spa, and Wellness Center.
Good Location
The location of the facility needs to have a good balance of privacy, natural beauty, and easy travel times. It won't be a good match if you need to drive several hours each time you want to visit your loved one. Try to find a local place that makes it easy for you to visit as much as you want.
In addition, the facility should have a lot of good views so that the residents enjoy every aspect of the facility. A place with plenty of trees and vibrant plants is a good choice!
Parsons House, an award-winning-best-of-Omaha senior living community, is conveniently located near 144th & Maple in Omaha.
The Perfect Senior Living Facility Incorporates All of These Features
By choosing a senior living facility that has all of these important features, you're ensuring that your loved one enjoys every single day to the fullest. You'll rest easy knowing that they're getting the right kind of professional care in a place that offers a high quality of life.
Make sure to contact us today and we'll help you and your family through every step of the transition!