Luxury & lifestyle are just two of the words being used to describe the renovations underway at Parsons House assisted living & memory care in Omaha. Ensuring residents feel at home is a big part of what Parsons House does. Accomplishing that means offering the amenities and accommodations you expect at home. Parsons House is currently renovating its community. They're proud to provide residents delicious food, pet-friendly living, a beauty parlor, entertainment, private dining, worship services, and daytime trips.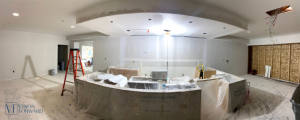 Parsons House is a family-owned property with long ties to the Omaha community. Kim Reeves and her husband, Andrew believe the primary focus should be entirely on compassion, quality care, and living life to the fullest. Kim and Andrew make every effort to provide for their resident's needs and wants. They're excited about the renovation that is underway. The newest additions will build upon an already state-of-the-art assisted living and memory care facility and make it one of the most unique facilities in the region.
Renovations of Parsons House commenced in March of 2021. Here are just a few of the renovations scheduled to be finished this year:
Bistro:  A casual and relaxed atmosphere where residents and families can enjoy a bowl of soup, a sweet roll, a cup of coffee, and good company.
Tavern: The Parson's House pub is a place to meet and visit with friends. Residents can come and enjoy a beer while watching a football game. Our residents can belly up to the bar or relax in a lounge-style gathering area.
Spa: Parsons House is taking their beauty parlor to the next level! Their "Reflexions" spa is a calm, beautiful resort-style space that allows residents to revive, relax and unwind. A place to pamper yourself with a manicure, fresh do, or a good conversation.
Multi-purpose room:  Health and wellness are very important to Parson's House.  Their multi-purpose room will offer a variety of exercise equipment and consistent activity programming.  Their goal is to promote and sustain their resident's overall safety, physical and social well-being.
Luxury & lifestyle at Parsons House where a team of trained professionals enriches the lives of residents every single day. As residents transition through different stages of life, receiving the proper care and having access to these types of amenities is the key to experiencing happiness and enjoying a fulfilled life. That's what living at Parsons House is all about. Love, luxury & lifestyle.
Parsons House invites you and your family to visit Parsons House Senior Living Omaha. Their award-winning best of Omaha team would be happy to give you a tour and to discuss your questions and specific needs.