The Benefits of Living in an Assisted Living Community
In the United States, there are about 28,900 assisted living facilities in the United States. If you are considering moving your loved one to one of these facilities, you may be wondering if it is worth it. But there are actually plenty of benefits to living in an assisted living community like Parsons House in Omaha. What are they though? Keep reading to find out a few of the benefits of living in an award-winning facility like Parsons House.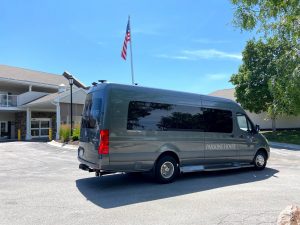 Accessible Help
One of the key benefits is that they'll have 24/7 help with any of their daily activities. This could be something as simple as getting dressed, taking a shower, or even using the restroom.
Even if the senior moves in and can take care of themselves at the time, they may need more care as time goes on. In this type of facility, they'll be able to get that care.
They'll also have access to all kinds of healthcare as well. They will have someone manage their medications, and they have access to trained staff and nurses who can handle any emergency.
Strong Community
As an elderly person, they may start to feel isolated from everyone, but it doesn't have to be that way! If they join a community for elderly people, they'll be around all kinds of people who are going through the same thing that they are.
This helps them avoid feeling isolated or depressed. Instead, they can make new connections and friends who share the same hobbies.
When they feel like they're in a community they belong with, this can help to boost their confidence or even help them deal with their health issues.
Free Time
If an elderly person is trying to take care of themselves, it might take them longer than usual to complete tasks that most people could complete in a few hours. They may also not be able to do some tasks like doing yard work or home maintenance.
Some of them are just annoyed with having to deal with being a homeowner and take care of the house. But with an assisted living facility, they won't have to worry about any yard work, cleaning, or cooking.
They'll have so much more time to take up new hobbies or do things that they were really interested in doing.
Safety
An assisted living facility will make sure that your loved one is safe as well. Many seniors are injured from falls, but every facility is accessible.
They have ramps, hand railings, raised toilets, specially-designed showers, and tubs, and grab bars in every bathroom. This will make sure that your senior is safe and won't have to worry about going up and down stairs or falling while trying to take a shower.
Most of them also come with security systems. When an elderly person lives alone in their home, they're more susceptible to robberies or break-ins, and they normally don't have the capacity to defend themselves. However, the facility will take care of all of that and make sure they have a good security team as well.
They're also prepared to handle any natural disasters that come through the area. Whether it's a tornado, hurricane, earthquake, or fire - they're prepared.
All of them have to have some detectors and carbon monoxide alarms to keep everyone safe. They also maintain them, which could be difficult for an elderly person who lives alone.
If there is a natural disaster, the team will have a plan in place to take care of everyone. This can help keep a little bit of stress off you and your loved one since you don't have to come up with a plan.
Fitness
Exercise is still important even when you're old, but it can be dangerous to do it on your own. Thankfully, a senior assisted living home like Parsons House can help implement fitness into your daily regimen through their activities department. They will also make sure that you do it safely.
Nutrition
It can be difficult to cook healthy meals for yourself, but a senior facility can also take care of that. Cosmos, the director of dining services at Parsons House, will carefully prepare nutritious (and delicious) meals to make sure that seniors can still eat healthily.
Meals are served in our large dining hall so that all of the seniors can eat together. This makes dinner a social event rather than a task that needs to be completed. The dining hall at Parsons House overlooks a beautiful golf course.
And will even let our residents invite family or friends over to enjoy a meal or two for special occasions. This of course depends on COVID-19 restrictions. Parsons House follows the guidance of the CDS and local health department guidelines.
Transportation
Lastly, the facility will also take care of transportation. Some elderly people can't drive anymore, but they won't have to worry about that anymore!
Parsons House has great transportation options, like buses or vans. The employees can drive them out to doctor appointments or out for fun activities!
Learn More About the Benefits of Living in an Assisted Living Community
These are only a few of the benefits of living in an assisted living community like Parsons House, but there are many more that you or your loved one can enjoy.
We know that making this decision can be very difficult, but we're here to help you figure it out. If you have any questions or are looking for a good assisted living home, make sure you contact us today!