Vaccinations Bring Hope
Project Hug Arrives at Parsons House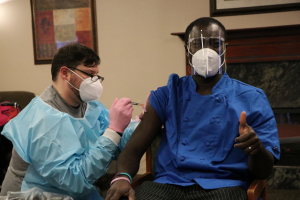 Vaccinating the nation's nursing home residents is taking longer than many have anticipated, and the family members of those in assisted living & memory care communities, like Parsons House, are certainly forgiven for being impatient: Separated away from their loved ones for weeks on end, residents and their families see a desperately needed light at the end of the tunnel as the shots gradually make their way into facilities across the country.
January 4th was the first day vaccines could be distributed to Assisted Living facilities in Nebraska. The first round of Covid-19 vaccinations was administered to our residents, nurses, housekeeping, dietary, maintenance, and administration. As we reflect back on the difficult year we've had, we are excited for the days ahead and have much hope for 2021. The vaccine was administrated by Project Hug -- a name chosen with the anticipation of residents hugging their loved ones again. Vaccinations bring hope and we're grateful to organizations like Project Hug to help make that happen.
The two-stage vaccination process brings hope to residents and their family members. Parsons House will follow the appropriate health department's leads when making decisions on a return to normalcy.
Parsons House management has expressed optimism that, given the progress made thus far, that that day could come in the not-so-distant future.
How Has the Vaccination Rollout Gone So Far?
It's the solution Parsons House has been hoping and praying for — for the better part of a year. We see this as a significant light at the end of the tunnel, and we're 100% behind it. It's a monumental effort by a lot of people — our vaccination partners at Project Hug, certainly our staff — over the next couple of months.
Parsons House has worked diligently to educate team members and residents about the importance of vaccinations. Increasing awareness is key to a successful vaccination rollout. Bottom line is, vaccinations bring hope to the residents of Parsons House.
How do we see the vaccination effort prompting policy changes around visitation and group activities?
The most important thing is we're going to follow the guidance of local and state public health [officials], and they will decide — with our feedback, of course — what and when that's going to occur.
As Parsons House turns the corner with the community, — we would like to believe in a relatively short period of time, we're going to be able to get back to the things that our residents and family members have been missing the most, and that's the issue around social isolation and lack of visitation and touch and personal care.
Ultimately, it will be the state and local public health [departments] that will guide us with that, but when the vaccine does what we believe it's going to do, we would think in very short order thereafter, we'll be able to get back to those kinds of things that have been the most frustrating for staff and residents and families.
Parsons House is grateful to the family members of our residents. They've been very supportive, engaged, and appreciative of our ongoing efforts to keeping their residents happy and healthy. We're looking forward to turning the corner and the vaccinations have given us hope.