Are you looking for ways to ensure your loved one is safe and sound in their new home? Do you have an elderly loved one that has Alzheimer's, Dementia, or some other form of memory loss? If so, then you need to learn all that you can about finding homes for seniors.
When you choose assisted living homes, you choose the option that will best suit your loved one's needs. It's important to find an assisted living staff that understands how to care for them.
See below for an in-depth guide on how to choose assisted living homes and all the factors that should go into it.
1. Specialized Care for Seniors
Memory loss diseases aren't easy on anyone involved. While your loved one has to battle through this newfound uncertainty in life, their loved ones (such as yourself) remain concerned for their overall safety.
Even the simplest of tasks become challenging. It becomes harder and harder for them to keep up with the conditions of their home. Instead of enjoying the home, they raised a family in, they've become scared or nervous about what lies ahead.
Fortunately, there are assisted living homes out there that specialize in treating those with memory loss diseases such as Alzheimer's or Dementia. They work with many different severities of it and can create a custom care plan to help them thrive.
Here at the Parsons House on Eagle Run, we take tremendous pride in restoring hope to elderly residents and their loved ones. We have a compassionate assisted living staff who takes great pride in treating your loved one with respect and patience.
We have many functional floor plans that can give your loved ones the space they need, while still lowering the square footage to reduce the workload. They'll enjoy the practical design, as well as the help they receive daily.
2. Supportive Staff
Unfortunately, any level of Alzheimer's Disease can make it difficult (or impossible) for your loved one to perform the most mundane of tasks. In fact, one of the biggest signs your loved one is dealing with memory loss is a regression in personal care.
They just can't take care of themselves the way they used to, and that's okay! When you choose assisted living homes, be sure to choose one that can take these things out of their hands. By limiting their responsibility, they'll be less overwhelmed.
Each of our floor plans has a private studio suite design with a 3/4 bath. We support all of our residents with such tasks as:
Beds made daily
Three homemade meals prepared
Private family dining is always available
Daily housekeeping
Frequent wellness reviews
Laundry services 2 to 3 times per week for your loved one
Includes all major utilities such as cable, internet, phone, long-distance
We want to make sure that your loved one receives the top care. Each of the three homemade meals is made with fresh, real-time ingredients. We also provide them with nutritional snacks to keep them happy and on a well-balanced diet.
3. Active Community
This isn't a sentence to a mundane lifestyle for the rest of their days, it's the opportunity for your loved one to start a new life! A life where they can meet new people, share new experiences, and bring a smile to their face once more.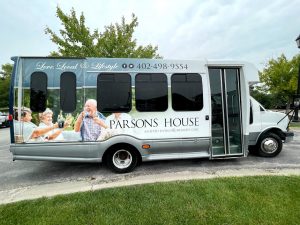 We take tremendous pride in providing a calendar of activities that keeps our residents busy. We also have scheduled outings to make sure your loved one is getting out there. We have 2 shuttle vans that are only used for resident activities.
That said, there's plenty to do on the premises as well! We have the largest outdoor secure courtyard in the state of Nebraska. We also have pet therapy on-premises to keep things light and engaging.
Your loved one will look forward to the different programs we offer. They're sure to expand their horizons and help them enjoy new hobbies.
4. Secure Premises
If you're going to move your elderly loved one to homes for seniors, you want to have full peace of mind. You want to know that they're doing all they can to ensure your loved one is safe.
Here at the Parsons House on Eagle Run, we have 24-hour professional staffing and an emergency response system in place. If your loved one wanders out in the middle of the night, we know how to direct them back to their room safely.
We'll give you consistent updates on how your loved one is progressing so that you can stay in the loop.
5. Assisted Living Budget
Even though there's a substantial need for homes for seniors, we understand that everyone has an assisted living budget to stick to. We're here to accommodate that as best we can.
Our floor plans and prices are justified by all of the amenities we offer. Everything you've read about in this article is covered in the rental price. That way, your loved one has everything that they need.
We want to help them reduce the tasks they're responsible for so that they can focus on maintaining an active and happy lifestyle.
Choose Assisted Living Homes You Can Trust
Now that you have seen an in-depth guide on how to choose assisted living homes, be sure to use this information wisely.
Take the time to read this article for more information on our memory care activities for seniors and how we help challenge them daily. To learn more about our Best of Omaha award-winning assisted living community, please contact us at 402-498-9554 and we will be happy to assist you further.